As a newcomer to Finland still trying to feel settled in Oulu, Disquitos is by far most immediate community I have found. This collection of accommodating, energetic, silly, and athletic humans is just what I need to begin feeling at home here.
Two weeks ago I joined four other players for a squished but entertaining road trip to Tampereen syysturnaus. This was a great opportunity to see other teams in action, form tactics within our own little team, and practice everything I've learned in the beginners' course this fall. There were several trilling moments of trying new things within our team that worked beautifully. As the tourney went on, these magic moments happened less and less frequently, probably because our opponents became trickier. We came in 6th out of 12 teams, which we were happy with. Although we didn't win the tournament, "we won the party!" (as my sister, a college ultimate player in the States, says). But seriously, our #partyhats were a hit with everyone and brought the spirit of fun to the tournament.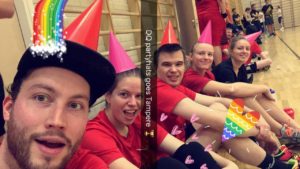 So Disquitos, thank you. Thank you for running the beginners course that got me active this fall just as the coming cold and darkness were making me feel otherwise. Thank you for your inclusiveness in switching to English both in trainings and in social conversation. Thank you for letting me watch and learn, both about how to make effective cuts on the court and how to celebrate our opponents with spirit prizes after each match.
So, as titled, this is really a love letter. Disquitos, I think I'm falling for you.
xoxo, Becca Wolfe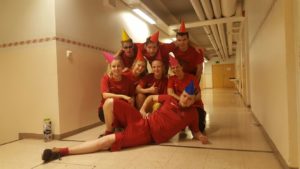 PS. Erityiskiitokset Aarni Nagylle, Emmastiina Salmelalle ja Valtteri Tarvukselle auttamisesta pelaajapulassa ja hyvän pelifiiliksen luomisessa!